Round Up: Our Most-Recommended Roofing Tools
Round Up: Our Most-Recommended Roofing Tools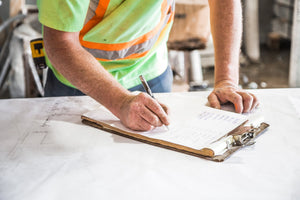 Are you reconsidering your current equipment lineup? If you're preparing to upgrade your systems and tools, IHS has your solution. 
Keep reading for a roundup of our favorite roofing systems, parts, and accessories—and trustworthy advice from industry experts. 
1. Forsthoff Roof Welding Machine
The Forsthoff 45 mm Roof Welding Machine is the ideal choice for any job that requires welding single ply membranes. This machine is designed with a powerful motor that's capable of creating fast and efficiently welded seams. 
Available in both 230V and 120V models, the Forsthoff Roof Welder offers innovative functions and features such as...
A streamlined narrow and maneuverable design for crease-free welding

A telescopic guide handle that can be conveniently adjusted to the user's body height

Updated hot air nozzles that provide faster and more efficient seam welding
As an added bonus, this tool comes with its own 20-pound weight set and wheeled carrying case.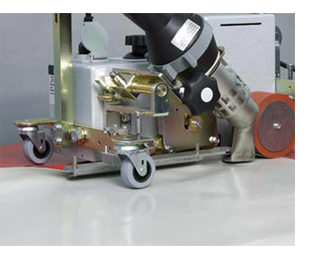 2. Miller Weldmaster Seamrover DD
The Miller Weldmaster Seamrover DD is the world's only dual-direction hot air welder. This machine raises the level of expectations you should have of a hot-air welder. Equipped with evenly distributed, built-in weight plates, this machine ensures consistent pressure for welds in any direction. Additional features include...
Heavy-duty, robust design maximizes the welder's longevity
Precisely positioned air dam to ensure consistent seam width
Simple temperature, speed and air flow controls to adapt to any membrane in any roofing environment
Easy in-field element change to maximize the machine's up time
High visibility transflection display for viewing in the brightest or darkest environments
3. Steinel HG 2620E Hot Air Tool with LCD Display
The Steinel HG 2620E Hot Air Tool delivers 1750 watts of power, and reaches temperatures between 120 - 1300 °F.  It is also equipped with an easy-to-read LCD display, with four programmable settings that can be individually customized for each of your applications. Additional features include...
Over temperature protection
Lightweight design (1.9 pounds)
Quiet operating noise (<70 decibels)
The Steinel HG 2620E Hot Air Tool can also be purchased with its own carry case for ultimate portability.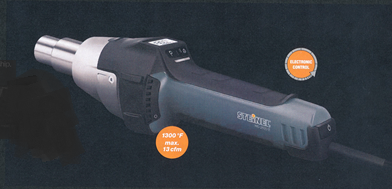 4. IHS Type 1600 Hot Air Tool
This tool is known throughout the industry for its durability and reliability. It's also a safe tool with its "automatic shut off safety mode" feature. When the power switch is turned off, the heat output is disabled, and the blower system will continue to run for approximately two minutes. The tool will then shut off by itself once the temperature has dropped to a safe level for handling. 
This tool is used for a wide variety of applications but the following are some of the most common...
Welding of thermoplastic materials
Forming, edging, and sealing
Drying of water-damp surfaces
Soldering of copper pipes, solder joints, and metal foils
5. Steinel HG Roof Automatic Welding Machine
The Steinel HG Roof Automatic Welding Machine combines strong output with a user friendly design. At just 31 pounds, this tool is the lightest of its kind on the market, making it the ideal welder for fast jobs and repairs. Additional features include...
Telescopic handle moves in two directions, making operation a breeze
Equipped with a soft start and safety shut-off switch
Brushless hot air blower motor is rated with a 10,000 hour life
The Steinel HG Roof Automatic Welding Machine also comes with its very own transportation case.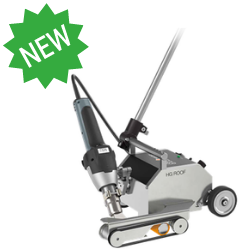 6. Forsthoff Roofing Hot Air Tool Kit
This tool is ergonomically designed for easy handling and use. This tool is perfect for hot air applications and, with the addition of certain accessories, converts into a handheld plastic welder. With low noise level (<70 decibels), and the capability to reach temperatures up to 1291°F, the Forsthoff Hot Air Tool is ideal for a number of industries and production applications.
Additional features include...
20mm and 40mm flat 

nozzles

Padded roller with seam probe

10" ergonomic scissor grip

UV anti-fog safety sunglasses
7. Steinel HG 2620 E Roof Welding Kit
The Steinel HG 2620 E Roof Welding Kit is a smart and cost effective option for professional roofers everywhere. The kit comes equipped with an LCD display, spare heating element, a 45mm pressure roller, flat angled nozzles and a heavy duty carrying case. Additional features include...
Lightweight design (1.9 pounds)

Quiet operating noise (<70 decibels)

Programmable settings
For more information on our recommended equipment and product updates, be sure to subscribe to our newsletter today!