3 Powerful Blower-Heater Combinations for Medical Device Sterilization
3 Powerful Blower-Heater Combinations for Medical Device Sterilization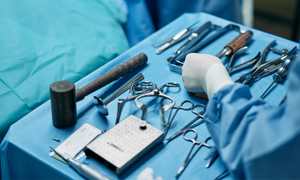 Medical devices play a vital role in the healthcare industry, providing critical care to patients in need.
However, with the use of any medical devices, there is a need for efficient sterilization systems to prevent the spread of harmful pathogens and infections. Hot air blower systems, which consist of a blower and a heater, play a critical role in medical device sterilization.
Below, we share why they're essential—and which blower-heater combinations can provide the most reliable performance.
>>Related read: How to Understand the Difference Between Hot Air Blowers and Air Heaters
Hot Air Blower Systems Help Maintain a Sterile Environment
First, hot air blower systems help sustain a sterile environment, protecting medical devices from harmful microorganisms. This is accomplished by using a forced-air (dry air) sterilization method, which works on the principle of conduction. It is achieved by creating a hot (dry) airflow, which is circulated throughout a sealed enclosure at a high rate of velocity (v) or volume (cubic feet per minute - cfm). Hot air is directed at the instruments and/or devices being sterilized until a predetermined target temperature is attained.
Blower system airflow inlets should also be fitted with high-efficiency particulate air filters, which will help to greatly reduce the contaminates that can be introduced through the blower system airflow inlet. They also help ensure that only purified air circulates throughout the enclosed sterilization area.
>>Related read: 6 Hot Air Tools That Save Time and Money in the Packaging Process
Hot Air Blower Systems Provide Uniform, Efficient Air Flow
Blower systems provide uniform and efficient airflow, which is crucial in sterilization. When sterilizing medical instruments and/or devices, you must ensure that the hot air is thoroughly circulated throughout the enclosure. Blower systems also provide constant airflow, which guarantees the sterilant will completely saturate each instrument and/or device with the required amount of heat. Plus, with their quick and consistent airflow, blower systems can help meet the desired turnaround times that medical facilities require for tools.
Hot Air Blower Systems Are Cost Effective
Finally, blower systems are cost effective. The operating cost is significantly lower than other methods of sterilization, such as static air. Medical facilities are constantly seeking ways to reduce costs without compromising the quality of care—and blower systems have become an optimal solution for a number of process requirements. This is because:
Dry heat airflow can be targeted to penetrate thick objects, as well as their outer packaging.
Heat-resistant metallic objects can be sterilized quickly at higher temperatures.
Toxic agents or harmful substances are not used in the sterilization process.
Instruments and/or devices can be used a short time after the sterilization process has been completed.
Blower systems are also cost-effective because they require minimal maintenance, and their components have a long lifespan. Additionally, they consume less energy compared to other sterilization systems, resulting in lower operational costs.
Key Blower-Heater Combos for Medical Device Sterilization
With so many different types of blower systems, blowers, and heaters available, it can be challenging to know which one is right for your needs. Centrifugal blowers push large volumes of air at lower pressures, while regenerative blowers move air at high pressures. Meanwhile, heaters attach to blowers and heat the air being distributed. Plus, some blower systems come with built-in heaters, adding another layer of complexity to your tooling decision. Below, we explore several combinations designed to provide unparalleled reliability.
>>Related read: Essential Blowers and Heaters for Your Equipment Lineup
1. IHS Air Heaters and Atlantic Blowers
For robust applications, you'll need larger air heaters, such as the IHS Type 10000 Air Heater, IHS Type 5000 Air Heater, or IHS Type 3000 Air Heater. For greater air volume, use the ABC-100, ABC-200, and ABC-300 centrifugal blower lines. For more directed air, use the Atlantic Blowers AB-100, AB-200, and AB-300 regenerative blower lines. Any of these tools can be paired with each other, though the best pairing for your application will depend on the volume of items being sterilized and assembly line speed.
2. Tutco-Farnam Air Heaters and Atlantic Blowers
For smaller-scale use cases, air heaters from Tutco-Farnam's Heat Torch, Cool Touch, and Flow Torch lines can be easily configured with your blowers to sterilize medical equipment. Because of their smaller sizes, these versatile air heaters are key for concentrating hot air. In terms of blowers, the Atlantic Blowers ABC-100, ABC-200, and ABC-300 centrifugal blower lines and AB-100, AB-200, and AB-300 regenerative blower lines can provide optimal performance when paired with one of these heaters.
3. Forsthoff Process Air Heaters and Atlantic Blowers
Forsthoff Process Air Heaters can also be configured with a variety of blowers. The Forsthoff 7500 Process Air Heater, Forsthoff Type 3000E Process Air Heater with Electronics, and Forsthoff Type 3000 & 5000 Process Air Heaters can be used with both Atlantic Blowers' centrifugal and regenerative blowers.
Keep in mind that as you consider your air heater and blower combination, you'll want to choose tools that can grow with your business. This means it may be more beneficial for you to invest in a larger setup now to better support your growth goals.
Find Your Ideal Blower System at IHS
Need to find a blower system for your unique needs? Our team of experts can help guide you through the process of selecting one, prioritizing factors like sterilization requirements, airflow needs, and budget constraints. With years of experience in the industry, we have the knowledge and expertise to help you make an informed decision that can help you reach your goals. Contact us today to learn more about how we can help you choose the right blower system for your medical device sterilization needs.