Meet the Team: IHS's Hot Air Tool Professionals
Meet the Team: IHS's Hot Air Tool Professionals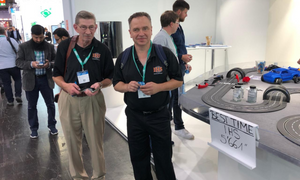 For years, the IHS team has been known for delivering top-of-the-line products, while personally assisting customers to find the tools for their exact needs.
But who are the experts behind the brand?
Meet CEO & Owner Eric Pardo and Sales & Marketing/Operations Manager Bob Heater Sr.
With decades of experience, the two have worked together to deliver unparalleled customer service and build strong relationships with renowned hot air tool vendors.
Below, check out a Q&A from the two to learn more about their backgrounds, expertise, and some of their favorite projects.
How Did You End Up at IHS?
Eric: I started working at a body shop supply company called Pro Finish when I was 23. When the owner moved the company to Boston, I began working at commercial roofing equipment supplier Hy-Tech Products, where I started as a warehouse manager, eventually moving up as a technician and then as a sales representative. The owner of Hy-Tech Products founded IHS in 2006, and I began exclusively working for that company. I then purchased the company in 2018 and have since been working to build customer relationships and expand our line of high-performance hot air tools.
Bob: I started working as a forklift driver at Airwick Industries when I was 19. I attended evening classes at Bergen Community College and then at Eastwick College graduating in 1985 with a degree in electrical engineering. Following this, I worked as a process engineer at Kulite Semiconductor Products, where I eventually became a supervisor running my own department. I then served as a process engineer with Philips N.V.'s Edax Division, and then as an electronic service manager with Pfaff GmbH. During this time, I also worked at night as a CET technical instructor at Eastwick College, my alma mater. I was then offered a corporate relocation, and my family and I relocated to Ohio, where I began working as an electronics service manager and technician training instructor at SVP Worldwide (previously Pfaff GmbH and Viking Sewing Company, owned by Husqvarna). When SVP purchased the Viking Sewing Company, it eventually relocated the company to Tennessee. We stayed in Ohio, and I began volunteering as a GED instructor at The Ed Keating Center. Afterward, I started as a quality control technician at the Schaffner Group. I stayed there for three years and then began working at Industrial Heat Sources. Like Eric, I gravitated toward the IHS brand, which led me to where I am today.
What Are Your Specialties?
Eric: My key responsibilities include sales, servicing tools, accounting, and customer service. I work hard to understand our customers' exact needs and how to help them in their applications.
Bob: My key responsibilities include business operations, sales and marketing initiatives, and website development and maintenance. I have a passion for both sign and banner and process heat applications. Early on in my career, I started in sales by cold calling mom-and-pop sign shops. I enjoyed setting up appointments to demonstrate our automatic welding machines and handheld hot air tools. Today, I enjoy working with customers in plastic fabrication, process heat, and process automation applications. Back in the day, process heat was simply hot air applications. Today, process heat technology is so much more, with customers in a variety of industries from agriculture and manufacturing to medical and pharmaceutical production and food and beverage. It is wonderful and gratifying to provide new technologies for our customers and to watch their businesses grow!
What Have Been Some of Your Favorite Projects?
Eric: One of my favorite projects involved a plastic injection molding application for a packaging and pelletizing company. For this project, the customer wanted to fill in holes and remove unneeded plastic strings from its huge plastic pallets, and we were elected to determine the correct amount of heat for the trial testing process. Once we identified the correct amount of heat, a robotic arm would grab the pallets and rotate them 360 degrees, allowing the selected heat sources to deburr and de-flash them.
Bob: I have a few favorite projects. One of them involved pipeline pressure converging, tank degassing, and sphere and bullet degassing for a thermo-vapor control services company. For this project, I worked with one of its R&D engineers to research and identify a solution that would produce enough heat to vaporize liquids, thus removing impurities from the product.
The other project involved traveling to a wind turbine manufacturing company's windmill farm in Minnesota. For this project, we climbed inside a cracked windmill blade in sub-zero temperatures to develop and implement epoxy curing process heat procedures for the repair and maintenance of windmill blade assemblies.
Finally, we created a specialized plastics fabrication process to de-flash and finish the interior and exterior assemblies of professional sports gear for an Ohio-based sports equipment manufacturer.
What Makes IHS Unique For Customers?
Eric: Because of our backgrounds, we communicate effectively with all levels of management, from technicians on the floor, site supervisors, and production managers to CEOs and end users.
Bob: Relationships are most important to us. We love building relationships with customers and helping them improve their existing processes, as well as developing new processes. It's not uncommon for us to go onsite to help our customers resolve an issue or develop a more efficient solution. Personal connections are key, and we will go the extra mile to make sure we satisfy our customer's needs.
What's The Greatest Lesson You've Learned Throughout Your Career?
Eric: A leader unites, a boss divides.
Bob: Understanding our customer's needs and providing quality service for them is our first and foremost desire. It is the backbone of our business. Want To Work With IHS? Whether you're an industry expert or novice, IHS welcomes all customers. No matter your industry, from manufacturing to roofing to everything in between, we can tailor solutions to match your exact needs. Contact us today and we will personally assist you.
Want To Work With IHS?
Whether you're an industry expert or novice, IHS welcomes all customers. No matter your industry, from manufacturing to roofing to everything in between, we can tailor solutions to match your exact needs. Contact us today and we will personally assist you.