How Often Should You Service Your Hot Air Tools?
How Often Should You Service Your Hot Air Tools?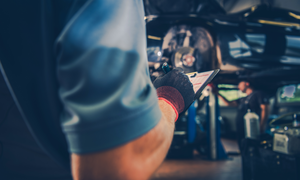 Your efficiency and bottom line are determined by a number of factors, from your employees and their experience levels to the applications you work on.
Many hot air professionals, though, don't realize the long-term benefits they can reap from regular preventative maintenance of their hot air tools. How often should you service your tools, though, and why?
We explore answers to some of the most pressing maintenance questions below.
Why Should I Perform Preventative Maintenance, and How Often Should I Check My Tools?
When performed correctly, preventative maintenance and troubleshooting can help you save money and improve productivity on a job site.
Yearly preventative maintenance by certified service technicians, as well as monthly in-house checkups, can extend the lifespan of your tool and prevent costly downtime associated with unexpected malfunctions.
Maintenance, whether conducted in-house or by a certified professional, can include:
More in-depth maintenance can include a complete internal examination of the tool. No matter which route you take—or if you choose both—it's paramount to be thorough and set a monthly reminder to conduct checks, especially during your busier seasons.
Which Applications Call for Vigilant Maintenance?
If you're welding in applications that produce volumes of dust, dirt, or debris, you'll have to be more diligent in checking for blockages or cracks. Some of these applications can include:
Roofing: Roofing applications undoubtedly produce a large amount of soot and dirt, and placing your hot air hand tool or extruder on the ground allows for that dirt to easily enter and clog it.
Civil engineering: Civil engineering applications, such as mining, bridge and tunnel construction, landfill, and artificial lake design, are also prone to dirt and dust, which can contaminate your hot air tool.
Production: Production line applications, such as for medical and pharmaceutical production or the food and beverage industry, can also produce dust that can easily infiltrate the inlet air filters of blower systems.
When working in these applications, make it a priority for you and your employees to regularly conduct maintenance checks on your hot air tools. This can keep them running smoothly in even the most demanding environments.
How to Maintain Your Hot Air Tools
When it comes to personally maintaining your tools, there are a few key areas to keep in mind when examining them.
Hot Air Hand Tools & Extruders
For hot air hand tools, such as the IHS Type 1600 Hot Air Tool or Forsthoff Grand SE Hot Air Tool, and extruders, such as the Ritmo Stargun Link 40 Double Handheld Extruder or Munsch GMAK-350-B Hand Extruder, it's important to regularly check your heating elements and filters for cracks or blockages, which can either damage your tool or prevent it from starting altogether.
It's also critical to check your motor brushes for wear and tear. While motor brushes typically need to be replaced more often than heating elements, keeping them in peak condition can help extend their lifespans.
Blower Systems
For blower systems, you'll want to ensure the inlet air filter is clean. When dirt builds up in your air filter, it can contaminate both your blower and hot air tool. Dirt accumulation in your air filter can also prevent it from working properly, resulting in heat buildup that can damage your entire system.
Is It Time For Your Preventative Maintenance For Your Hot Air Tools?
If you're not sure how to care for your hot air tools or simply want a certified technician to take a look at them, we can help. At IHS, we have more than a decade of experience and not only offer preventative maintenance, but rentals, arranged pick-up and delivery, and more. Contact us today to learn more about our world-class service offerings.