Key Digital Tools for Your Equipment Lineup
Key Digital Tools for Your Equipment Lineup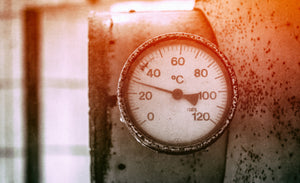 Controllers and sensors, such as temperature controllers and thermocouples, provide users with the data they need to safely operate and control the tools they're using.
They're also critical in ensuring a tool doesn't get too hot and that the correct output temperature is achieved.
Oftentimes, high-end systems are already equipped with a controller or sensor. But if yours isn't, how do you choose the right one for your application?
Analog and Digital Temperature Controllers
Temperature controllers give users the ability to quickly make temperature adjustments as they're needed. IHS offers two types: Analog controllers, which require users to manually dial in set points by hand via a temperature dial, and digital controllers, which require the push of a button to change the temperature via a digital display.
Analog controllers, easily identified by their prominent temperature dials, can operate either at maximum output or at manually adjusted setpoints. They're generally easier to learn how to use and are cost-effective options for simple applications. While digital temperature controllers are more complex, they interface with the heater unit, offering immediate data for quick modifications. Digital controllers also come equipped with more features and functions than analog temperature controllers.
Depending upon your application, you'll need different features in a temperature controller. Some feature a light signal to indicate when a tool is under or over the required temperature. Others include proportional integral derivative (PID) control systems, which use feedback loops to determine how to adjust output of the air heater, such as when someone opens a door.
Some also boast a gradient feature with a ramp and soak program, which is designed for a large chamber with many parts. With this feature, users choose temperature increments over a selected period of time. Once the controller reaches the desired point, the temperature remains stable for a set period of time before shutting off. During this soak time, an epoxy will cure if you're adhering products together.
Digital temperature controllers can also be configured with a number of other devices, including thermocouples, resistant temperature devices, and programmable logic controllers.
An easy-to-use tool for configuring temperature, the HCS P-6100 Fuzy Pro Programmable Temperature Controller is a must-have for your process application.
High-Temperature Thermocouples
Designed to operate in a higher temperature range, thermocouples work with digital temperature controllers to regulate the temperature output of a heat source. Thermocouples are offered in a variety of types, including K, J, T, and E, each of which are rated with specific temperature ranges.
Though IHS temperature controllers work with a broad range of thermocouples, most temperature controllers work with the K type, while the second most common is the J type.
Thermocouples are most often paired with temperature controllers to control a process, but they can also be used as standalone devices to simply monitor a process.
The HCS Economy K Thermocouple Thermometer is an ideal option for everyday applications.
Versatile Resistant Temperature Devices
Like thermocouples, resistant temperature devices (RTD) work in conjunction with digital temperature controllers to regulate the temperature output of a heat source. Designed to control lower temperature ranges, RTDs come in a myriad of options. They're offered in different sizes, temperature ranges, and with a variety of protective coatings, including nylon and teflon. While there are different types of RTDs with varying temperature ranges, as a whole they regulate lower temperatures than thermocouples.
The HCS CHY RTD Thermometer is a compact, digital thermometer featuring a platinum RTD sensor designed for multiple applications.
Programmable Logic Controllers
Programmable logic controllers (PLC) are external devices used to display data, control the devices they're plugging into, and serve as timers to shut the systems down. They can be used with digital controllers, RTDs, and thermocouples. When working with PLCs, the controller, RTD, or thermocouple will monitor the temperature and send the data to the PLC, which will display the temperature and sound an alarm if the temperature reaches a certain threshold.
We Have The Digital Tool You Need
There are plenty of options when it comes to choosing the best digital controller or sensor for your hot air tools. Take a look at our expansive lineup of digital offerings—we promise to have the tool you need. Plus, don't forget to sign up for our bi-monthly newsletter, which features expert advice, helpful industry resources, and more.