Top Air Heaters and Radiant Heaters for Food & Beverage Applications
Top Air Heaters and Radiant Heaters for Food & Beverage Applications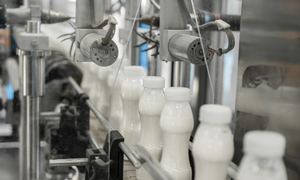 Those in the
food production industry
know how important it is to ensure your products are safe.
After all, those products impact consumers around the globe.
But what hot air tools are the most cost effective in the production process, while ensuring you meet your quality and safety requirements? And which ones can deliver the heat necessary to complete your tasks without damaging your products?
Below, we explore the top air and radiant heaters used for common food and beverage production applications.
1. Packaging & Bottling
When it comes to securing labels to containers like water bottles or adding safety and freshness seals to packages like meats or nuts, hot air tools are an economical solution. These tools can be especially effective for suppliers producing thousands of goods on a daily basis.
Though assembly line speed and volume of products can dictate which tools you'll need, some high-performance hot air tools and accessories that can be used across most packaging and bottling applications include:
It's also key to consider your organization's growth when selecting hot air tools for your packaging and bottling applications. In most cases, it's better to select tools with greater heat output. That way, they can grow with your production capabilities.
2. Shrink Wrapping
As its name suggests, shrink wrapping involves using heat to securely cover a thin shrinkable plastic film over a product, such as meats or fresh produce. The film can also be shrunk on top of a product, such as a salad dressing bottle, to serve as a safety seal. When it comes to this process, suppliers can use hot air or radiant heat.
Hot air tools and accessories that can be used for this task include:
3. Sterilization
Sterilization is an important step in ensuring the containers your products are placed in are clean. Because bacteria and contaminants can form when plastic and glass containers are manufactured, they must be sterilized for safety. The sterilization process begins with autoclaving or gas exposure and is then completed with heat.
While this process can be completed with hot air, radiant heat can also be used to sterilize plastic or glass containers. For larger products, such as two-liter soda bottles, salad dressing bottles, milk containers, and more, you'll need a larger hot air tool, such as the
IHS Type 10000 Air Heater
. For smaller products, such as small bottles of seasoning, the
IHS Type 4000 Air Heater
or
IHS Type 5000 Air Heater
is ideal.
Keep in mind that sterilization can take place from both the inside and outside of the product, as well, which will dictate how your heaters are arranged on the assembly line.
4. Drying
Before products can be packaged, they must be dried. There are several drying techniques that use hot air and radiant heaters, including hot air drying, contact drying, infrared drying, freeze drying, and fluidized bed drying. The type of product, which can include fruits, vegetables, coffee, meats, seafood, and more, will determine which type of technique and heater need to be used.
While both types of heat can both be used in the drying process, suppliers may also use blowers to remove excess debris, such as leaves, from fresh products.
Atlantic Blowers's centrifugal blowers
can be used in these cases, with the
ABC-100
,
ABC-200
, and
ABC-300
being three of the most common options.
When it comes to tool selection, heaters like the
IHS Type 5000
can be used for drying fresh produce, while radiant heaters like the
Tempco Series CRL Ceramic E-Mitter
can be used to remove the excess moisture from freeze-dried products.
5. Seeding
Similar to the above, seeding involves drying seeds—ranging from home gardening seeds to corn or soybeans for farmers or agricultural powerhouses like John Deere—in bulk before they're packaged and sold. This process rapidly dries large volumes of seeds, getting them on store shelves and in the hands of businesses as quickly as possible.
In this process, infrared heaters like the
Tempco E-Mitter line
are commonly used.
This helps ensure the seeds aren't blown away, like they could if air heaters were used.
Air Heater or Radiant Heater? Let Us Help You Choose
Not sure if hot air or radiant heat is the right option for your food production application?
Reach out to us
and a real human can help you determine which tool you need to maximize efficiency and cut costs.