How to Choose the Right Plastic Welding Nozzle
How to Choose the Right Plastic Welding Nozzle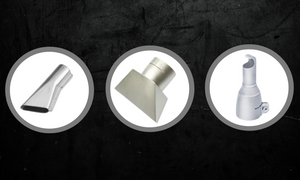 While it may seem like a small part of the process, selecting a nozzle for your plastic welding tool can have a significant impact on the welding process.
The nozzle directs the airflow and distributes it across a surface. The shape, size, and diameter of the nozzle can directly affect the air distribution and the weld as a whole.
Several factors determine which type of nozzle will work best for your application, and it's critical to keep all of them in mind when making a decision.
Type of Application
First, narrow down which nozzle you'll need based on the application. Not only does the application dictate your nozzle, but it'll help determine which type of plastic welding tool you'll be using.
The location of the application will also help you choose the correct nozzle. If you're welding in a tight area, you'll want a narrow nozzle, such as the IHS 10mm Soldering Reflector Nozzle. Though you have more flexibility in nozzle choice when welding in an open area, try to match the outlet of your nozzle with the size of the weld.
Weld Size
The size of your weld also plays an important role in the type of nozzle you select. If you're performing a larger weld, such as on a thermoplastic sheet for a vehicle cover or tarpaulin, choose a nozzle with a larger outlet.
If you're performing a smaller weld, such as on cabinets, panels, and floors, you'll need a nozzle with a smaller outlet. It's also key to know the diameter of your plastic welding tool, because nozzles are designed with specific inlet sizes.
Types of Plastic Welding Nozzles
Plastic welding nozzles come in a variety of shapes and sizes, and each nozzle is designed for a specific type of tool and size of weld.
Plastic welding nozzles can include:
While many nozzles can only be configured with specific brands of plastic welding tools, others, such as the IHS 20mm Reflector Nozzle, IHS 100x4mm, 150x1mm, 150x10mm, 300x6mm Wide Slot Nozzles, and IHS 14mm Threaded Nozzle, are compatible with a variety of manufacturers' tools.
Choosing Your Plastic Welding Nozzle
With so many options to choose from, it can be challenging to find the right plastic welding nozzle for your application. At IHS, we have decades of experience, and we're here to help you in any way we can. We also manufacture a wide range of high-quality direct replacement nozzles that can be used with Forsthoff, Miller Weldmaster, and Steinel tools, among many other name brand products. Contact us today, and we promise to help you find the perfect fit.