Basic Welding Tools for Your Equipment Lineup
Basic Welding Tools for Your Equipment Lineup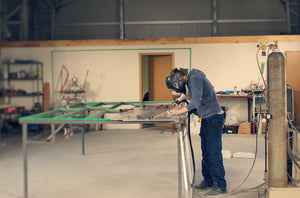 Whether you're welding a patch on a roof or fabricating a custom automotive body, having the correct welding tool is the first step in making sure the job gets done correctly and efficiently.
From automatic welders to extrusion welders, there's a myriad of tools to choose from, and finding the right ones for your applications can be challenging.
With that in mind, take a look at some welding applications, as well as the tools you should always have on hand at the jobsite.
Welding Applications
Used primarily in civil engineering, manufacturing, plastic fabrication, plastic welding, roofing, and sign and banner applications, welders use heat to fuse metals or plastics together.
Depending on the type of welder you're using, the tools can be used to weld pond liners, awnings, interior automobile components, tanks, and furniture, among a variety of other surfaces.
There are several types of welders used for these specific applications, including automatic welders, hot air hand welding tools, extrusion hand welders, and industrial extrusion welders—also called extruders.
Automatic Welders
Automatic welders are welding machines that are preset to complete a task and then complete the given task on their own. As with all preset equipment, it's important for the user to oversee the machine to ensure the task is being completed properly and safely. Functioning similar to robots, these machines are used for welding flexible membranes, such as for roofing applications, pond liners, landfill, swimming pool liners, tarpaulin, or awnings.
The Forsthoff P2 automatic welder series, which includes the 20 mm Overlap Welding Machine, 45 mm Roof Welding Machine, and 50 mm Tape Welding Machine, as well as the Steinel HG Roof 240V/2000W Automatic Welding Machine, can be used to perform these tasks.
Hot Air Hand Welding Tools
Most hand welders are self-contained hot air handheld welding units, while some are designed for use with an external air supply, such as a house air system, air compressor, or blower system. They're used in smaller applications, where you're welding in tight areas. Chosen for their versatility and light weight, hot air hand welders can be used for a variety of tasks, including welding cabinets, panels, and floors, or fabricating furniture. They're also used in tank construction and welding interior components for automotive applications.
The IHS Type 1600 Hot Air Tool and Steinel HG 2620E 230V/2300W Hot Air Tool can both be used to successfully weld in hard-to-reach applications.
Extrusion Hand Welders
Some extrusion hand welders are self-contained handheld welding units, while others may require an external air supply, such as a house air system or air compressor. They can be used in smaller applications, as well as medium and larger applications. Designed for projects with a broad range of material thicknesses and welded bead lengths, these handheld machines are suitable for a variety of applications including the manufacture of reservoir systems, tanks and containers, pipeline construction, ventilation, automotive, boat building, or landfill technology.
For applications using 1/8 in. to 1/4 in. plastic, the Munsch Mini Extruder, HSK 10DI Digital Mini Handheld Extrusion Welder, and Drader Injectiweld W30000 Extrusion Tool can be used. For 3/8 in. to 1/2 in. plastic, the Munsch MAK-18, MAK-25, and MAK-32, and HSK 18-GSX, 22-RSK, 26-GSX, and 28-RSX are ideal tools.
Industrial Extrusion Welders
Industrial extrusion welders are large machines used to extrude thermoplastics and thermoplastic composite materials. Designed for extruding thermoplastics molds and performing long, continuous welds, these machines are suitable for a variety of industries, including industrial, automotive, and aerospace. They can be used for welding thermoplastic sheets for vehicle covers and tarpaulins, and membrane substrates for bridge and tunnel construction. They're also used in the manufacturing of custom parts, components, assemblies, and subassemblies.
Tools capable of performing these extensive welds include the Munsch Rob-Extruder, HSK IE25 Industrial 230V & 400V Mounted Extruder, and HSK IE60 Industrial 230V & 400V Mounted Extruder.
Because extrusion hand welders and industrial extrusion welders can be used in similar applications, keep in mind the size of the application, thickness of the material, and length of the weld when choosing the proper tool.
Trying to Find the Right Tools For Your Business?
IHS prides itself on years of experience and a top-of-the-line service team. If you need help choosing the right tool for your application, contact us. If you need help troubleshooting a tool, our world-class service, repairs, and support team is happy to help. We'll always work to find the tools that can grow with you and fit your needs and applications.