11 Single-Ply Roofing Tools Contractors Need
11 Single-Ply Roofing Tools Contractors Need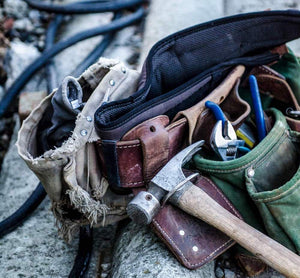 11 Singly-Ply Roofing Tools Contractors Need
Over the past 35 years, single-ply thermoplastic membranes-such as TPO and PVC-have grown in popularity as an effective alternative to asphalt-based commercial and industrial roofing systems. This shift is largely due to single-ply's ease of installation, relatively low cost, durability, and its energy-cost saving potential. 
However, a singly-ply roofing system is only as good as its seam welds. To consistently create durable, watertight seams that can withstand heavy weathering (i.e. wind, rain, snow, standing water and sun), you'll need to invest in the right equipment.
Following is an overview on the type of equipment needed for quality single-ply roof seam welding.
1. Automatic Roof Welding Machine
Automatic roof welding machines (such as Forsthoff and Steinel) are designed to roll along straight seams while applying consistent heat and pressure. The result is a quality, reproducible weld. When purchasing, look for a welder with:
Digital display

 that shows both set and actual temperatures, giving you more control over heat output. These displays should also alert you of any malfunctions, such as a faulty heating element.

Drive motor

 powerful enough to handle slight roofing inclines.

Silicon-based pressure roller

 to ensure even pressure is applied to a seam despite small surface inconsistencies.

Guide bar

 that will allow you to steer the machine without having to bend over, limiting fatigue and increasing daily output.

Option to add extra weight

 over the pressure roller for greater seam pressure.
2. Hot-Air Hand Tool
Hot-air hand tools, such as the IHS Type 1600 and the Steinel HG 2620E, enable you to weld seams in corners or confined areas, and on curbs or vertical surfaces. When purchasing a heat gun, look for:
Lightweight and ergonomic design 

to reduce muscle strain while holding it in various positions, or for extended periods of time.

Heat-protection tube

 to avoid accidental burns.

Overlap, or slot, welding nozzle attachment

—these are specifically designed for welding two pieces of overlapped material.
3. Hand Pressure Roller
When welding with a hot-air hand tool, you'll need a hand pressure roller to evenly press the heated material together and form a strong bond. Make sure your roller is:
Made of silicone to ensure consistent pressure is applied despite surface inconsistencies.

Approximately three inches wide for greater surface area coverage.
4. Wire Brush
When welding plastic materials, it is likely that some of the plastic will stick to the welder's nozzle. A buildup of this plastic can restrict airflow and potentially damage the heating element or the tool itself. Use a stainless steel or brass wire brush to scrape away the melted-on plastic while it is still hot, to keep your equipment in peak operating condition.
5. Generator
Poor power supply can impact a hot-air welder's heat output, which can lead to inconsistent seam welds. For this reason, when possible, avoid relying on the building's power outlets, and instead utilize a power generator.
To determine the generator power capacity you need, consider the electrical requirements of the tools being used and how may of these tools are operated simultaneously. Make sure the generator you select is available with a dolly cart for easy maneuvering. If possible, also get a hoisting kit, to simplify lifting the generator to the roof.
6. Extension Cords
Invest in extension cords to avoid having to repeatedly interrupt work to relocate or change your power source. Roofing power cords should offer the current carrying capacity required by your welder-for example, a 240-Volt automatic walk welder needs a 50 Amp/ 250-volt cord. The cord should also be:
Grounded

10-gauge 3 wire

100 feet or less in length
7. Weights
To ensure your welded seams are tight and secure, weights can be added to apply more intense amounts of pressure. The amount of weight you'll need depends on the membranes you're welding, but it's always a good idea to have weights available, should the need arise.
8. Sheet Pullers
Say "goodbye" to slipping sheets. While a sheet puller tool is a small accessory, it has major impact. With this small auxiliary tool, you can easily lock onto, and pull your geomembrane sheet in its proper position.
 9. Power Distribution Box
The IHS Power Tech – Power Distribution Box is a versatile power source used for both indoor and outdoor use. All outlets have circuit breaker overload protection, and all U-Ground outlets are GFCI protected. Multiple 15/20A outlets, and 30A and 50A Twistlocks provide the most popular power outlets that contractors use.
These "Spider Boxes" are used for all types of general construction, roofing, rentals, trade shows, entertainment events, and wherever portable power is needed.
10. Tool Stand
A tool stand is an item that can help maintain your product's performance, avoid damage, and make your operations easier. Tools stands provide a secure and sturdy place for your hand tools to go when not in use, ultimately keeping your tool safe from being banged around or even damaged. Additionally, when your hand tool isn't completely cool, it's dangerous to let the tool lay around—keeping it stored in a proper place eliminates the potential of getting burned or burning and damaging other items nearby.
11. Seam Probe Kit
Seam probing is one of the final steps in the hot air welding process. It's used to determine if the proper fusion of materials has occurred. More information about the actual seam probing process can be found here. To ensure you're prepared for this step of welding, invest in a seam probe kit that consists of all the tools you might need.
Stay up-to-date on all things industrial heating with our newsletter. Click to subscribe!